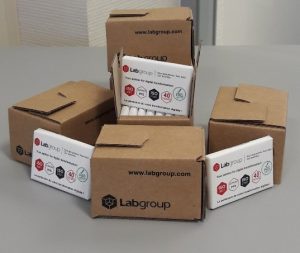 Labgroup est fière de présenter ses nouveaux « Goodies » : des mignonettes en chocolat ! En plus d'être délicieux, les chocolats sont bio et issus du commerce équitable et, ainsi, s'inscrivent dans la démarche sociétale de l'entreprise ! Les mignonettes sont emballées dans des mini-boîtes cadeau, en tous points similaires aux boîtes d'archive Medium de Labgroup !
Étant bio, fairtrade et au chocolat fondant, les petits chocolats sont des petites attentions qui seront distribuées lors de nos événements avec comme objectif d'offrir un petit cadeau qui est à la fois bon et bien.
The new Labgroup "Goodies" have arrived!
Labgroup is proud to present its new "Goodies": mini-chocolates! In addition to being delicious, the chocolates are organic and fairtrade and, thus, are part of the company's societal approach! The little chocolate squares are packaged in mini gift boxes, similar to Labgroup's medium boxes!
As being organic, fairtrade and made of dark chocolate, the small squares are little extras and will be distributed on our events with the objective to offer a gift that is good and does good.
https://www.labgroup.com/wp-content/uploads/2018/08/chocolats.jpg
453
537
Cindy Reff
https://www.labgroup.com/wp-content/uploads/2019/06/Labgroup-Logo-White.png
Cindy Reff
2018-08-09 10:32:57
2018-08-09 10:32:57
Les nouveaux « Goodies » Labgroup sont arrivés !