Posts
https://www.labgroup.com/wp-content/uploads/2019/02/GIGD.png
950
950
Emilie Belot
https://www.labgroup.com/wp-content/uploads/2019/06/Labgroup-Logo-White.png
Emilie Belot
2019-02-21 10:00:21
2019-02-21 13:29:41
Today is the Global Information Governance Day!
Labgroup, le leader de la gestion documentaire tout au long de la vie, et l'éditeur spécialisé Nowina Solutions, associent leurs forces pour intégrer un service de signature électronique en ligne dans un logiciel de GED (Gestion électronique des documents). Les deux sociétés luxembourgeoises veulent ainsi permettre aux petites et moyennes entreprises de réduire leurs coûts en accédant facilement à ce mode de validation moderne et reconnu par la loi.
La digitalisation de nos sociétés et la transformation digitale des entreprises sont aujourd'hui des évidences, qui apportent des changements profonds, notamment dans la façon de conclure et signer des contrats.
En effet, la signature électronique, qui a une valeur légale depuis 1999, est, pour les parties, la nouvelle manière de valider un accord, sans être astreints à l'imprimer, le poster, le retourner, le vérifier, l'archiver…
Il suffit de détenir une adresse de messagerie électronique et un smartphone pour être capable de signer un document électronique en ligne de façon sécurisée et ultra rapide !
La signature électronique offre même plus de flexibilité que la signature manuelle, puisque 3 niveaux de fiabilité sont définis dans la loi en vigueur (Règlement (UE) n ° 910/2014 du Parlement européen et du Conseil du 23 juillet 2014 sur l'identification électronique et les services de confiance pour les transactions électroniques au sein du marché intérieur et abrogeant la directive 1999/93/CE), à choisir en fonction de la valeur à sécuriser :
‡La signature électronique qualifiée (SEQ), qui a la même valeur juridique qu'une signature manuscrite au sein de l'Union européenne, est basée sur un certificat d'identité numérique acquis auprès d'une autorité de certification européenne dûment reconnue, comme LuxTrust, enregistré sur un support hautement sécurisé, tel une puce intégrée dans les cartes d'identité (belges et luxembourgeoises).
La signature électronique avancée (SEA), reconnue dans le monde entier, peut prendre différentes formes (signature manuscrite sur une tablette tactile, signature basée sur un certificat à usage unique…), et doit être précédée d'une identification des signataires, dont la nature et l'acuité dépendront du degré de sécurisation visé.
La signature électronique simple présente des exigences ainsi qu'une valeur juridique plus faibles, mais suffisantes dans beaucoup de circonstances (en cas de réception de colis par exemple, validée par une signature apposée sur la tablette tactile du livreur).
Les deux premiers niveaux de signature électronique permettent de garantir l'identité des signataires, la date de signature et la non-altération du contenu validé.
Nowina (voir nowina.lu) est l'éditeur de la plateforme de signature électronique EVA, qui est :
conforme au règlement européen eiDAS ;
dotée d'une interface de programmation (API) pour l'intégrer facilement dans n'importe quelle application, de gestion documentaire par exemple ;
compatible avec n'importe quel certificat d'identité numérique acquis auprès de n'importe quelle autorité de certification inscrite sur la liste de confiance de n'importe quel pays membres de l'Union européenne ;
configurable pour offrir un parcours de signature guidé et ouvert à ses utilisateurs, en leur permettant par exemple de sélectionner les niveaux de signature proposés au choix ;
100% web, c'est-à-dire utilisable sans qu'il soit besoin d'installer quelque logiciel que ce soit sur le poste client, sauf bien entendu le pilote du lecteur de (carte à) puce dans le cas d'une signature électronique qualifiée ;
unique pour ce qu'elle offre un niveau de fiabilité très élevé pour la signature électronique avancée basée sur un certificat à usage unique, en transmettant par SMS un code de signature calculé par une méthode cryptographique, et non aléatoire ;
intégrée dans l'application LuxDoc de Labgroup.
LuxDoc est la solution de gestion électronique des documents (GED), proposée par Labgroup en mode SaaS (Software as a Service), avec tarification à la consommation (en nombre d'utilisateurs et en volume de stockage de documents).
LuxDoc offre déjà une multitude de fonctionnalités pour aider les petites et moyennes entreprises à optimiser le traitement et le classement des informations reçues et produites au sein de l'organisation (voir luxdoc.lu). La signature électronique sera la prochaine à être proposée à la demande, c'est à dire comme un service supplémentaire. Un simple clic permettra à l'utilisateur autorisé de lancer le processus de signature. Le représentant habilité de l'autre partie recevra automatiquement par courriel une invitation à signer le document en ligne et un lien vers la plateforme EVA hébergée par Labgroup. Si la signature électronique avancée est sélectionnée, un certificat à usage unique, ou code de signature, lui sera envoyé sur son smartphone, dont la saisie vaudra signature.
Les clients de LuxDoc pourront ainsi inscrire la signature électronique à l'agenda de leur transformation digitale, sans avoir à investir dans une infrastructure technique, un environnement de cybersécurité et un logiciel, que Labgroup met à leur disposition.
Au sujet de Labgroup
Labgroup est une compagnie luxembourgeoise qui offre des solutions de gestion et d'archivage de l'information aux entreprises et aux organisations de tous les secteurs.
Depuis 1977, Labgroup s'est efforcée d'assister ses clients dans leurs efforts de dématérialisation, en proposant des services et des solutions adaptées de gestion électronique des données.
La gamme des services de Labgroup inclut la numérisation des documents papier, l'entreposage et la destruction des archives physiques, la capture et la conservation des archives électroniques, la sauvegarde et la restauration de données, la préservation de médias informatiques, la consultance et la formation en archivistique. Notre équipe de professionnels fournit des conseils concernant la politique d'archivage, la gestion des documents d'archives et la conformité (compliance). Labgroup est une société internationale, avec des clients sur les cinq continents. La mission de Labgroup est d'aider les organisations à maintenir leur conformité aux obligations légales tout en améliorant l'efficacité de leur gestion de l'information.
Pour en savoir plus : www.labgroup.com
Au sujet de Nowina
Société de services informatiques offrant des solutions complètes de dématérialisation des processus intégrant la signature électronique. Créée en 2014, cette jeune société est déjà reconnue par beaucoup d'entreprises comme une référence de la signature électronique en Europe. Nowina s'engage aux côtés de ses clients dans leurs projets de transformation digitale. Pour cela, l'entreprise s'appuie à la fois sur son expertise unique en matière de signature électronique, mais également sur une connaissance solide du secteur des services financiers, du secteur public et celui de la santé.
L'équipe de professionnels de Nowina Solutions propose une formation sur les différents aspects de la signature électronique, telle que la nouvelle règlementation eIDAS et aide les entreprises à saisir les opportunités idéales qui n'incluent pas le papier.
Pour en savoir plus : http://nowina.lu/
Contact:
Labgroup
Cindy Reff
Marketing & Communication
Tél : +352 350 222 243 – Email : marketing@labgroup.com
—————————————–
Liens: 
Communiqué de presse – Labgroup
—————————————–
Liens Presse :
https://www.labgroup.com/wp-content/uploads/2018/11/Conférence-signature-électronique-18.10.2018.jpg
2997
3995
Emilie Belot
https://www.labgroup.com/wp-content/uploads/2019/06/Labgroup-Logo-White.png
Emilie Belot
2018-11-07 12:26:10
2018-11-08 08:43:46
Nowina Solutions et Lab Luxembourg S.A. (Labgroup) s'allient pour faciliter l'utilisation simple de la signature électronique intégrée
Today is the Global Information Governance Day! ​
#GIGD occurs on the third Thursday in February and was established to raise awareness on information governance.
WHAT IS INFORMATION GOVERNANCE (IG)?
IG includes activities and technologies that organisations employ to maximise the value of their information while minimising associated risks and costs.
IG is based on a holistic approach to managing corporate information by implementing processes, roles, controls and metrics that treat information as a valuable business asset:
make information assets available to those who need it,
provide employees with data they can trust and easily access while making business decisions,
reduce legal risks associated with the unmanaged or inconsistently managed information.
The information governance, after a preliminary analysis, results in a classification of the information according to its nature or its value. This classification enables the identification of your information with engaging/probative/legal value, (for instance business contracts, policies…).
NEWS ON INFORMATION GOVERNANCE IN EUROPE!
Information governance has never been as important as in 2018. The European Union pursues its objective of restoring trust and imposing transparency on businesses. All companies as of 2018 "must watch over the outcome of their data, from their creation to their destruction."
In this way, Europe is focusing on strengthening digital trust through a policy of protection and regulation, as reflected in:
General Data Protection Regulation (GDPR), in force in May 2018.

Three objectives :

strengthen the rights of people + creation of a right to the portability of personal data,

empower stakeholders dealing with data,

increase awareness of the regulation thanks to reinforced cooperation between the authorities

European regulation eIDAS (Electronic Identification and Trust Services) n°910/2014, which has been fully implemented since the 1st of July 2016, has demonstrated the willingness of member states to democratise digitisation by:

enhancing the security of electronic exchanges;
recognising the universal value of the electronic signature;
granting of legal value to a digital document. (In Luxembourg the legal framework anticipates and supports this democratisation of the digitisation. The law of 25th of July 2015 on electronic archiving recognises the probative value of electronic copies of paper documents produced by a PSDC (Provider of Digitisation and Conservation Services) certified company to respect all the conditions of strict fidelity to the original and, moreover, the presumption of conformity with the original.)
HOW TO RESPOND TO THESE NEW REQUIREMENTS/OBLIGATIONS?
1. SIMPLIFY & STRENGTHEN INFORMATION GOVERNANCE WITH ARCATEG™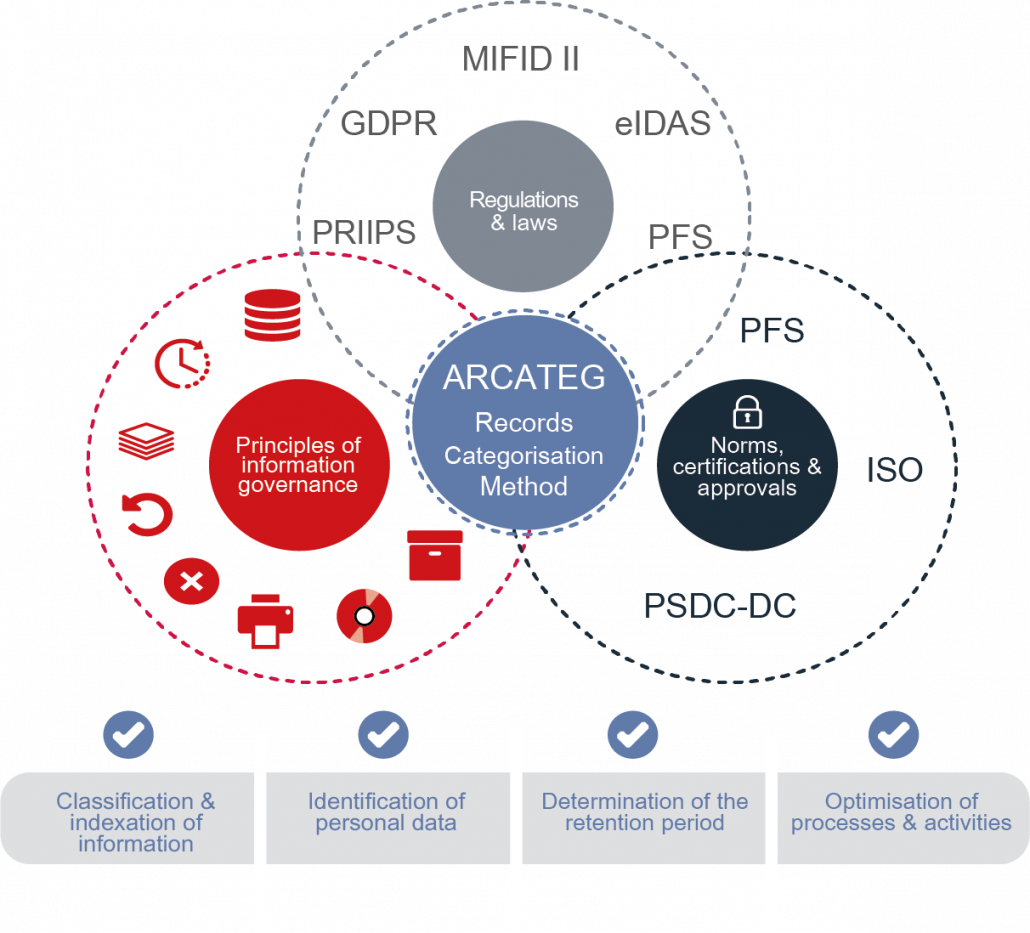 Being a trusted partner of Marie-Anne Chabin, an internationally recognised expert in the archiving and digital information management field, as well as the creator of the Arcateg™ method, Labgroup integrates this method into its service offering.  Arcateg™ is an original and effective methodology that accelerates and consolidates information management rules and their implementation.
The 100 universal categories of the Arcateg™ ranking framework cover all possible values ​​of information on all media and thus facilitate the audit and qualification of risk information in the enterprise. These conservation categories make it possible to structure the lifecycle of documents and data rigorously and sustainably.
With Arcateg ™, you can both simplify and strengthen information governance across the organisation (lifecycle management of files and folders, data security, content access). You can also decline to use the Arcateg ™ repository according to various specific projects: improvement of physical archiving, quality and completeness of the retention rules, identification of personal data and compliance with GDPR.
2. …AND WHAT ABOUT MY LEGAL DOCUMENTS? CALL FOR A PSDC-DC!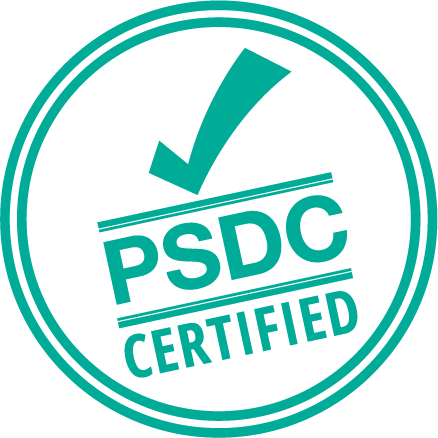 First PSDC-DC company in Luxembourg, Labgroup is certified as:
Provider of Digitisation Services, in other words Labgroup is empowered to create legal electronic copies of paper documents;
Provider of Conservation Services, which guarantees the integrity, confidentiality and persistence of electronic archives throughout their retention period.
3. GO DIGITAL ! LET'S GO FOR A PAPERLESS OFFICE!
Labgroup provides electronic document signing services, in collaboration with its partner Nowina, enabling companies to:
Facilitate the "workflow" (process) of contract signing, at national and international level (Europe),
Ensure transparency and trust between the signatory parties.
4. ASSESS YOUR GDPR AND CYBER RISK COMPLIANCE!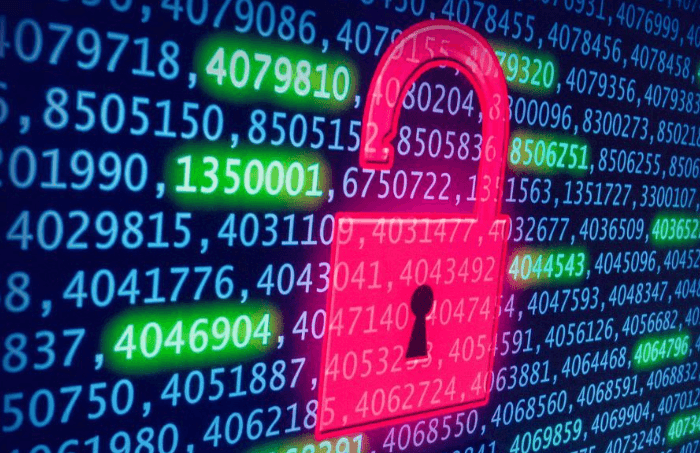 Today, Labgroup is the first independent provider to offer Cybermanager, a solution developed by its partner UBCOM, which is an assessment tool that allows business managers to evaluate in less than five hours their level of maturity and resilience of their organisations as well as their information systems facing cyber risks and GDPR regulation.
If the questionnaire is adapted to GDPR compliance, the approach should be viewed more holistically: an assessment of the organisation's actual level of maturity regarding information governance Information governance and resilience.
An opportunity for organisations to better analyse their exposure to risks and make text compliance a competitive advantage by increasing the level of trust of its employees, customers and partners.
Still not ready for 2018?
Labgroup consultants are available to help you optimise your management and archiving of your information assets.
Send an e-mail to servicedesk@labgroup.com to schedule your appointment without. 
https://www.labgroup.com/wp-content/uploads/2018/02/GIGDay-2018.png
622
615
Cindy Reff
https://www.labgroup.com/wp-content/uploads/2019/06/Labgroup-Logo-White.png
Cindy Reff
2018-02-15 11:34:57
2018-02-16 11:34:53
Information Governance Day 2018